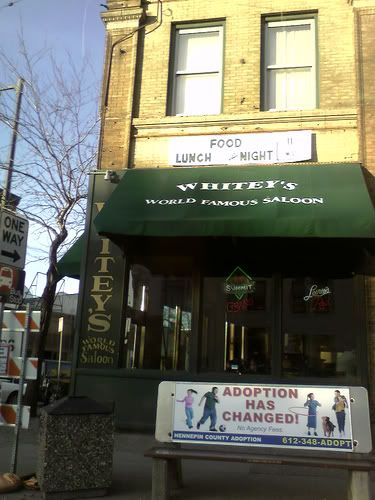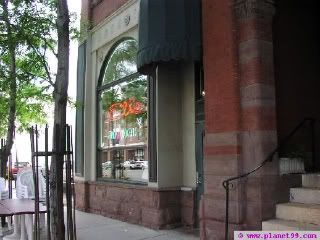 Yesterday's Bloody Mary was "enjoyed" at
Whitey's
. It was too bright, too strong, and too small.
D.
Today's Bloody Mary was enjoyed at
Eli's
, a small bar/restaurant downtown. I watched her make it, and was a little afraid: I saw the glass fill with vodka, and then watched the minuscule splash of Bloody Mary mix slowly fall over the ice cubes, appearing to barely fill the glass with flavor. I used my straw to mix it up a bit, and took a sip.
Heavenly!!
Thick, peppery goodness, and not a touch too strong. Garnished with a pickle spear, two green olives, and a lime, it was the perfect amount of thick, rich flavor and bright, tart accessories.
A+!
So A+ in fact, that I had two, so forgive my excitement.
In addition to their delicious Bloody Mary(s), I was hungry, so I ordered their steak & eggs. What came to me from the kitchen was the smallest piece of meat that anyone's ever served me with a straight face, but it didn't matter-- it was filet mignon, cooked to perfection (I prefer my meat to resemble a crusty hockey puck) and utterly delicious.
I think I found a new favorite place.