As you might not already know, I have a torrid love affair with the cinema, additionally having a proclivity to foreign films which exposes me to the spicier film life of Europe and abroad. Before the
Great Blogger Crash of 2011
, I had developed a region-specific listing for best films so you could pick and choose in the same manner as a restaurant, but that's all washed away now so I leave you with a general listing. The list has become quite bloated, and come in quite late since I heard that the decade was over years ago. However, I'm counting all films 2000-2010.
The decision of how good a film is, is made is by the number of different emotions I felt during it's viewing, multiplied by an index of how much sex, drugs and violence it carried. Those are simply all the qualities I use to assess films. If it carries any artistic merit then surely it will translate into an emotion.
I'm a pretty pretentious person and often use foreign phrases to enhance my pointless speaking. "How's the dinner?" -> "Tres bien!" and I'll say that with a straight face and all the guttural tics that Frenchies garnish their rhotics with. In the spirit of pretense, I have left all the names in the original languages when it suits me. The "blurbs" I have added are unfortunately useless to gauge a film. I can only hope the included picture captures the aura of the movie.
You've probably seen half of these films already, so... watch them again. Or preferably, you could buy them and leave the cases of serious foreign films scattered around the house in a effortless display of intellectualism. [Some films are marked M, because they are only for viewers of extreme mental fortitude and hardy emotional stability. Also by each film is a count [e.g. x1, x2, x3] denoting how many times I've seen said film.]
GEMSTONE FILMS, QUALITY GUARANTEED -
Amelie. It might seem like a saccharine and cliché film to start a
"Best of..." list with, but it is only first because of alphabetical order.
It will fill your heart with joy again, even if you've already seen it. x3
Angels in America. A deft introduction to gay people
and the "gay disease." x1
A Very Long Engagement. Amelie and this film share the same
director and lead actress, but if you must watch one, watch this one.
A search for truth, not love or closure, set during WWII. x1
Amores Perros. The title could be translated to "Dog Love",
every story dealing with a plurality of dogs, or "Dogged Love",
with the many forbidden obsessions that come to light. x1
Ballast. So authentic, it's hard to believe it's
fiction, or that it takes place in America.
Black Swan. Don't watch this film for "girl on girl" action
for you will be sorely disappointed. Do it for the literally
monstrous-feminine narrative. x4
Caché. This movie has the single most shocking scene
of violence in movie history. Not for the queasy, and you
won't see it coming so keep a barf bag close at hand. M x3
The Dreamers. Here you see three attractive Europeans in
a bathtub. What the hell do you think is going to happen?
Sophisticated voyeurism into the life of the carefree. x1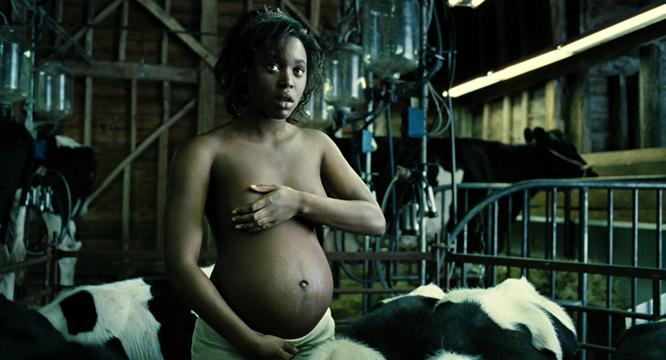 Children of Men. The second best film of the decade. Cuarón
has breathtakingly visualized a future controlled by tea baggers,
even before birther-baggers were known to exist. It's most notable
element is the dearth of editing that keeps you in the moment. x2
Inglorious Bastards. A terrific exercise in
violent forms of persuasion. x1
La Pianiste. Isabelle Huppert, one of the most ravishing women
on the face of the earth, plays a strict piano instructor who is
not aware of the boundaries of her sexuality, to put it lightly. M x2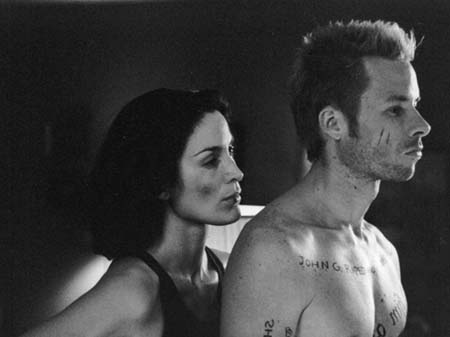 Memento. A commenter fave that I haven't seen.